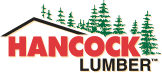 Return Policy: Performance, Inspection, and Acceptance
Buyer shall finally inspect and accept all products within ten (10) days after arrival at point of delivery, and Buyer shall inspect and approve all work by Hancock within ten (10) days after Hancock completes that work. All claims by Buyer (including claims for shortages) which a reasonable inspection would reveal must be asserted in writing by Buyer within said ten (10) day period. Failure of Buyer to give such timely notice of defect, non-conformity, or other claim shall result in waiver and release of such claim and final acceptance of the product or work.
Although Hancock Lumber attempts to photograph all deliveries and requests initialed receipts within its Enterprise Resource Planning (ERP) system, lack of an electronic photograph or signature is not evidence of any failure to make delivery.
RESALEABLE stock materials MAY be returned for full credit at Hancock's sole discretion.
Special Orders are generally not returnable for credit. Exceptions require Hancock General Manager approval and are subject to a 30% restocking fee.